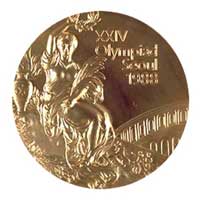 This morning I went out to empty the letter box. There was a competition leaflet from De Post, The Belgian Postal Services.
De Post

is giving all of Belgium the chance to win a trip to the Olympics and cheer on its athletes
.
Great. Why not?
The promotional poster looks very promising. The nine athletes look like some kind of Star Trek cast. And really look like they mean business. That's good. Give 'em the stare and scare the opponent. I like that tactic.
Also: the catchphrase is hilarious.

'1,3 billion Chinese supporters
10 million Belgian supporters
We're gonna need all your postcards'
Do you think they have a similar promo campaign in China? Anyone who doesn't send back their postcard gets it?
Even the weather has to comply (think of cloud seeding).
To put it in the
immortal words
of the late great
Perry DeAngelis
:
"Yes I believe China will control the weather. If it doesn't cooperate they'll have it shot."
So I decided to have a stab at the quiz and answer the four questions.
But then I got to question number 2:
"Which Belgian athlete, who won a gold medal at the 1988 Seoul Olympics, collaborated on a promotional campaign for the

Bank van de Post

's savings account?"
And then you can tick one of the three boxes to answer:
a. I. Bergmans
b. E. Merckx
c. D. Monami
Alas there is no option d. none of the above.
Why would I go for d.? By 1988, Eddy Merckx had long since retired as a pro, Dominique Monami won a bronze medal in doubles but not until 2000 in Sydney.
So we're left with Ingrid Bergmans. Granted, she did the savings account promo BUT woman's judo was only a demonstration sport in 1988. So technically it doesn't count as a full-fledged Olympic medal. She's not even on the official Olympic medal winners list anywhere. So strictly speaking she never won never won an Olympic medal.
Which is stupid. It was a legit competition at a top level. She deserves that extra recognition. Because I still think she is one of the best athletes that has ever come out of little Belgium. She was every girl's role model in the eighties. She still holds the record for most world titles (6) and 11 medals overall (6 gold, 4 silver & 1 bronze).
So I call shenanigans on this competition and demand a free ticket to Peking!
Oh and: Go Belgium!